Our Lawn Aeration Services...
Insects, diseases, improper watering and lack of fertilizer are often blamed for a lawn's decline when the real culprit may be soil compaction. Lawn aeration is the only method to alleviate soil compaction, thus giving root systems the adequate amount of air, water, and fertilizer to create a healthy green lawn.

In the Houston and surrounding area we have a lot of clay, decomposed granite and other poor soil conditions which rarely allow our lawns to thrive unless we apply some form of mechanical aeration.

Lawn aeration is the process of mechanically removing soil plugs and small portions of thatch from the lawn. This relieves soil compaction and improves the ability of roots to grow deeper into the soil and expand; improving air and gas exchange, along with water and fertilizer intake.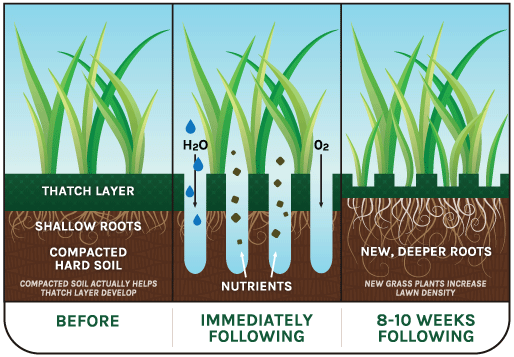 Aeration has both long and short term benefits:
Promotes air exchange between the soil and atmosphere
Reduces soil compaction
Deeper, healthier root growth
Improves nutrient uptake and use
Decreases water run off and puddling
Conserves water by improving soil water uptake
Penetrates heavy thatch, enhancing thatch break down
Makes the turf more heat and drought tolerant
Enriches surface soil improving resiliency and cushioning
You get a greener healthier lawn!
Your healthy green space offers aesthetic and environmental benefits:
Protects the value and appearance of your home investment
Requires less watering
Is less likely to be targeted by insects and disease
Improves air quality by removing dust and other pollutants
Minimizes soil erosion
Absorbs sound better
Call us to today. Remember with Noack Maintenance & Landscaping Co., you can expect expert, courteous service by trained professionals and we stand behind our work.
***Important Note: Before aerating your lawn, you will need to clearly mark any sprinkler heads, other lawn utilities or decorations in order to avoid damage.

Please Schedule me for Lawn Aeration and Fertilizer to give my lawn a head start for Spring!
Noack Landscaping provides Lawn Aeration to the greater Houston TX area including Cypress, the Woodlands, Spring, Tomball, Magnolia, Katy, Conroe, Humble, Kingwood, Waller, Klein and Jersey Village.